Oxygen and Sodium Abundances in M13 Giants: Linking Globular Cluster Formation Scenarios, Deep Mixing, and Post-RGB Evolution
Christian I. Johnson1,3 and Catherine A. Pilachowski2
1University of California, Los Angeles; 2Indiana University; 3NSF Postdoctoral Fellow
Globular clusters are collections of a few tens of thousands to several million stars bound together by their mutual gravity. In addition to being among the oldest (10-12 billion years) known objects in the Universe, stars within globular clusters share several key characteristics that make them ideal laboratories for studying chemical enrichment and stellar evolution. In particular, stars in a globular cluster have approximately the same age, distance, and chemical composition. The homogeneous nature of these stellar populations produces distinct sequences in color-magnitude diagrams (Figure 1) that are now well-understood by modern stellar evolution theory. We now know that the location of stars on diagrams like Figure 1 is driven primarily by their mass and internal structure. However, important details regarding both how globular clusters form and how the unique globular cluster environment affects chemical enrichment and star formation remain a mystery.

Figure 1: (left) Here we show an annotated color-magnitude diagram for M13. The stars targeted for this work are at about the luminosity level of the horizontal branch and brighter. (right) This figure shows a color-magnitude diagram for the interesting cluster NGC2808. As you can see, the main-sequence is split into three separate sequences, and the stars on each sequence likely vary in their light element and He abundances. Note that no such behavior has yet been seen in M13, despite it exhibiting the same light element dispersion as NGC2808.
Although early color-magnitude diagrams seemed to indicate that globular clusters consisted of only a single population, spectroscopic analyses instead found large star-to-star abundance variations among globular cluster stars, but only for elements lighter than silicon. Furthermore, key element pairs like oxygen and sodium vary oppositely (e.g., stars high in sodium are low in oxygen). The abundances of heavier elements like calcium and iron, which require very high temperatures to alter via nuclear fusion, do not vary among stars in a given cluster. The light element abundance variations, particularly those present in bright red giant stars, were initially thought to be related to nuclear fusion reactions occurring in the stars themselves. However, stellar evolution theory predicts that only carbon and nitrogen should be significantly altered during a star's transformation from the main-sequence to the red giant branch (RGB). Additionally, similar stars not residing in globular clusters failed to show evidence of abundance variations for elements beyond carbon and nitrogen, indicating that the peculiar chemical abundance signatures of globular cluster stars may be related to the cluster environment rather than stellar evolution. This was later verified by the observation that main-sequence and subgiant stars in clusters (stars which do not have internal temperatures high enough to fuse elements like oxygen and sodium), show the same abundance variations as the red giants.
The next break through arrived with the discovery that many, if not all, globular cluster color-magnitude diagrams exhibit multiple sequences (see Figure 1), and that each sequence appears to be tied to a unique light element abundance pattern. Furthermore, since the heavy element abundances do not vary among stars in a cluster, the separate sequences are thought to be caused by differences in the abundance of helium (the second most abundant element in normal stars). While all stars produce helium as a by-product of hydrogen burning, only certain types of stars (e.g., ~5-8 M asymptotic giant branch (AGB) stars or rapidly rotating massive main-sequence stars) are thought to eject enough He while simultaneously altering the abundances of light elements to match the observed trends. Putting all of these ideas together has led to a new model of globular cluster formation in three distinct phases: (1) a first generation of stars forms from material ejected by massive stars exploding supernovae (SNe), (2) a quiescent period follows in which star formation ceases and gas from intermediate mass AGB and other stars falls toward the cluster center, and (3) a final population of stars forms in the cluster core enhanced in elements like He and Na and depleted in elements like O and Mg. This scenario generates several testable predictions: (1) the initial central concentration of second generation stars means they should be more numerous than first generation stars after 10-12 billion years of evolution (first generation stars are preferentially lost due to gravitational interactions), (2) despite radial mixing the second generation stars may still be centrally concentrated, (3) if the second generation stars have a high enough He abundance then they may be able to alter their surface abundances at high RGB luminosities, and (4) the high He stars may terminate their evolution in the horizontal branch (core He-burning) phase.
In order to test these predictions, we used the Hydra multifiber spectrograph on the WIYN telescope to obtain high resolution spectra of more than 100 RGB and AGB stars in the globular cluster M13 (Figure 2). Since different elements absorb different wavelengths of light, we can calculate the abundance (number of atoms) of each element in a star's atmosphere by measuring how much light is missing (absorbed) in the spectrum at specific wavelengths. In general, older stars have lower abundances of elements heavier than He than younger stars, and the metal-poor nature of the M13 stars we observed is consistent with its old age.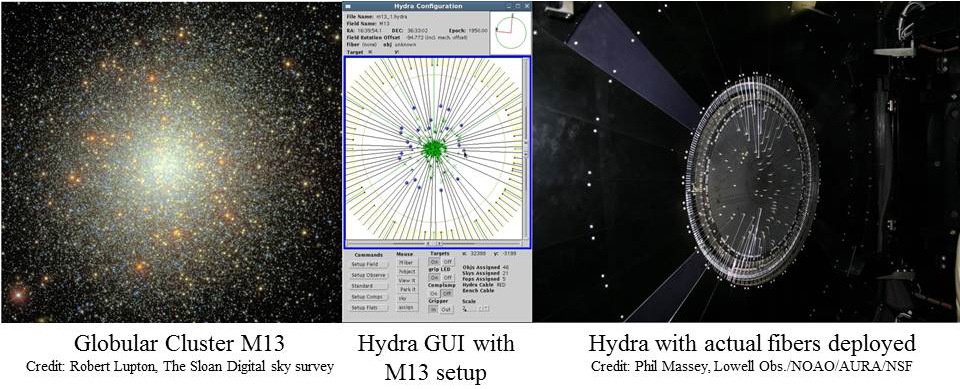 Figure 2: (left) An optical image of the globular cluster M13 highlights the high density environment of clusters compared to the fields. The bright red objects are among the RGB stars that we targeted with WIYN. (middle) This image shows the Hydra instrument graphical user interface (GUI) with fibers assigned to stars in M13. The green points are target stars, the blue lines are the Hydra fibers, and the blue squares are blank areas of the sky where we place fibers to subtract background light. The field-of-view with Hydra is about 1 degree, but the radial extent of the cluster is only about half a degree. (right) The actual Hydra fibers are shown deployed in a configuration. The small fibers are magnetic and "stick" to the focal plane.
As mentioned previously, the abundance of elements like oxygen (O) and sodium (Na) are known to vary significantly between stars in a given globular cluster. After measuring the abundances of oxygen and sodium compared to iron in our M13 stars, we discovered several interesting features (some of which were previously suspected from much smaller samples):
The oxygen and sodium abundances indicate three subpopulations, one extremely oxygen-poor and sodium-rich, one with intermediate oxygen and high sodium, and one with high oxygen and low sodium, as identified in Figure 3.
The stars with extremely low oxygen abundances are more concentrated toward the center of the cluster.
Most cluster stars belong to the "intermediate" population
The evolved, helium-burning giants all have high oxygen abundances.
The oxygen abundance of the extremely low oxygen stars declines as stars evolve up the red giant branch
In essence, the oxygen-rich, sodium-poor stars are thought to be the first stars that formed in globular clusters. These stars have abundance patterns that closely match those of field stars and match predictions from Type II SN yields. On the other hand, the intermediate and extreme stars likely represent the second generation of stars that formed from gas polluted by both Type II SNe and objects like intermediate mass AGB stars.
We believe our observations provide significant evidence in support of recent theories of globular cluster formation. The first two lines of evidence are the central concentration of O-poor (extreme) stars and the predominance of intermediate composition stars. The most heavily polluted second generation stars may have formed closer to the cluster core than any other stars. As can be seen in Figure 3, the primordial and intermediate stars are more evenly distributed throughout the cluster. Globular cluster formation models also predict that, owing to their more extended distribution throughout the cluster, up to ~90% of primordial stars may be lost early in the cluster's history. We find that only ~15% of M13's stars are from its first generation. The remaining stars were likely tidally stripped and became part of the Galactic halo.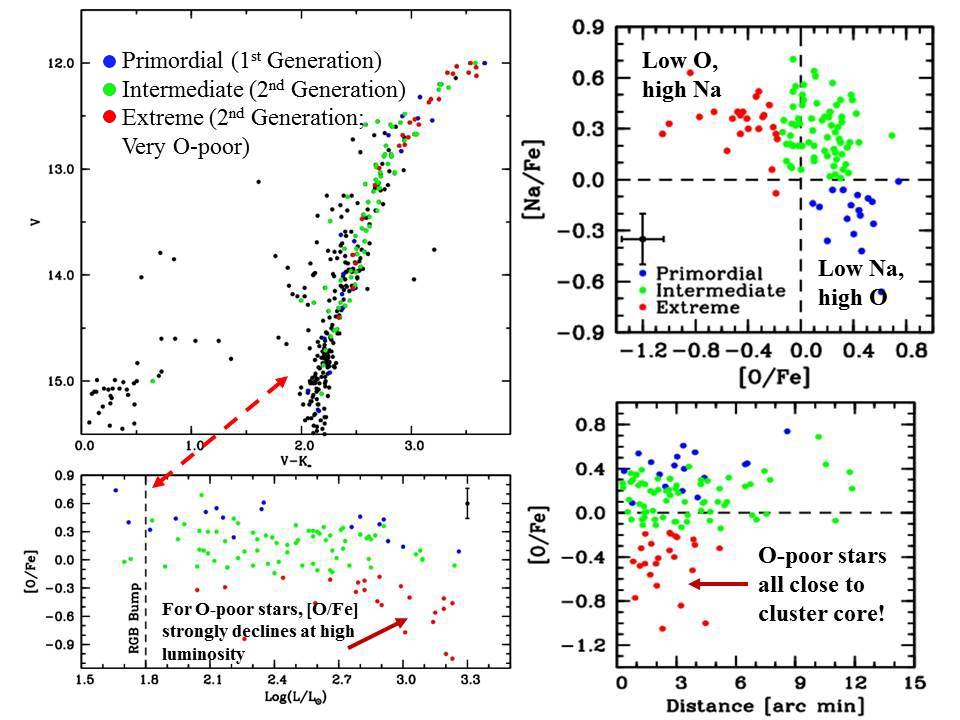 Figure 3: (top left) A color-magnitude diagram for M13 is shown with the stars we observed highlighted and color-coded based on their chemical composition. (top right) This figure plots [Na/Fe] versus [O/Fe] and illustrates how we differentiated the stars by composition. The shape of this plot is a nearly universal feature of globular clusters and is referred to as the "O-Na anticorrelation". (bottom left) The oxygen abundances are plotted versus the log of each star's luminosity (relative to the Sun; log(L/Lsun)=3 is 1000x more luminosity than the Sun). Note the strong decline in [O/Fe] at the highest luminosities for the stars with already low oxygen abundances. (bottom right) Here we plot [O/Fe] as a function of each star's distance from the cluster center (in units of arc minutes). Note that the very O-poor stars (red points) are more concentrated near the cluster center than the more O-rich stars.
In addition to forming stars in the core with unusual [O/Fe] and [Na/Fe] abundances, a portion of the second generation stars may also be enhanced in He. Unfortunately, it is difficult to measure He abundances since it does not produce strong absorption lines in cool stars. Red giants with high helium abundance may, however, destroy oxygen through nuclear "burning" in their interiors as stars reach higher and higher luminosity, just as we have observed for the very low-oxygen giants in M13. The oxygen abundance remains constant for stars with relative oxygen abundances of at least half the Sun's, but stars with less oxygen to begin with seem to lose even more as they evolve upward in luminosity. Also, the extremely low oxygen stars only appear above the luminosity of the "red giant bump," suggesting that an internal process must be destroying the oxygen. Finally, after helium-burning begins in a star's core, He-rich stars are expected to evolve to the extreme blue end of the horizontal branch. However, these stars likely end their lives before ascending the AGB and become so-called AGB-manqué (failed AGB) stars. Interestingly, we do not find any O-poor (He-rich) stars in our AGB sample, and the fraction of AGB-manqué to AGB stars in M13 matches our observed ratio of O-poor to O-normal stars. This significant, though indirect, evidence supports the idea that the most O-poor RGB stars in M13 are He-rich and will end their lives as AGB-manqué stars.
The results outlined by our work provide strong support for current globular cluster formation models, and can explain the anomalous very O-poor stars found in some clusters with a pollution plus in situ mixing scenario. However, despite all of this two important observations are missing to complete the picture: (1) an M13 color-magnitude diagram showing more than one evolutionary sequence and (2) a verification that the O-poor RGB (or very blue horizontal branch) stars are He-rich.
Acknowledgments: This material is based upon work supported by the National Science Foundation under award No. AST-1003201 to C.I.J. C.A.P. gratefully acknowledges support from the Daniel Kirkwood Research Fund at Indiana University. A portion of the material presented here is based upon work supported by the National Science Foundation under the AAPF program. Any opinions, findings, and conclusions or recommendations expressed in this material are those of the authors and do not necessarily reflect the views of the National Science Foundation.
Last modified: 01-Dec-2012 23:25:43 MST