Observing With ODI
ODI Filters
The throughput of ODI at the WIYN telescope has been modeled taking into account:
Three reflections on the aluminum-coated mirrors.
Absorption losses in the corrector optics.
Reflection losses in the corrector optics, assuming a high-performance broad band anti-reflection coating.
The predicted CCD quantum efficiency curve. Note that this is the largest uncertainty in the model.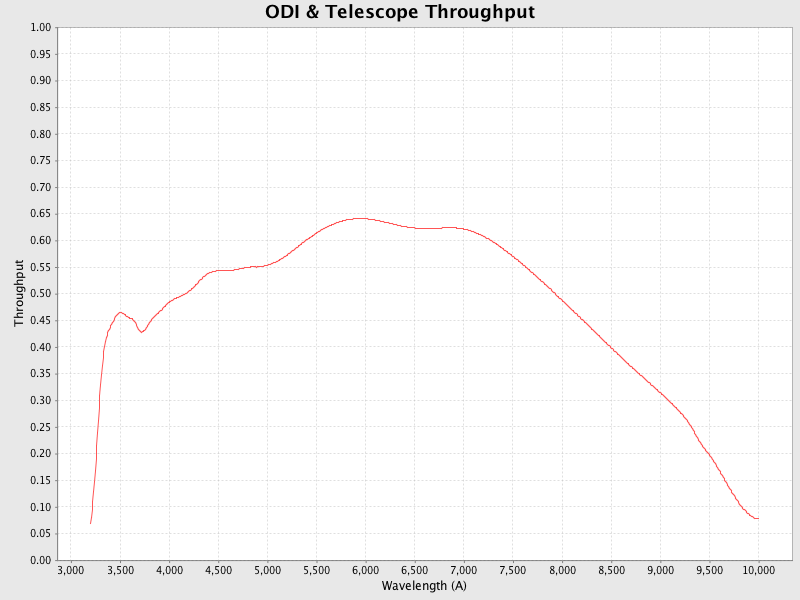 The ODI g', r', and i' filters will be fabricated by Barr Associates with a very similar prescription to the first set of PanSTARRS filters. Thus we used the Barr measured filter curves of the initial PS1 g' r' i' z' filter set in this simulation.
The ODI u' band filter is not defined yet, and we are unable to give a prediction on ODI's total performance in this band yet.
From the simulations - assuming an object spectrum with Fnu=const=3.63e-20ergs/Hz/cm2/s - we calculate the following photometric zero points for ODI:
| | | | | | |
| --- | --- | --- | --- | --- | --- |
| Filter | u' | g' | r' | i' | z' |
| Zeropoint (AB) | TBD | 26.7mag | 26.6mag | 25.4mag | 25.5mag |
Note that these numbers are preliminary and that they will have to be verified during ODI's commissioning.
For reference, we plot the original SDSS system throughput in all five filters. These system responses have been taken from http://www.sdss.org/dr3/instruments/imager/
Click on a thumbnail image to view fullsize.
| | | |
| --- | --- | --- |
| FILTER | ODI THROUGHPUT | SDSS THROUGHPUT |
| u' | | |
| g' | | |
| r' | | |
| i' | | |
| z' | | |
Last modified: 03-Apr-2014 11:53:17 MST