About ODI / ODI Status and News
ODI News Roundup: July 24, 2013
The WIYN Board has approved an upgrade project to increase the science field of view for ODI. Currently, ODI has only 13 out of the 64 possible detectors deployed in the focal plane, providing a central 24 x 24 arcminutes field of view (pODI). We have now started the process (with Mike Lesser and ITL) of procuring an additional 24 detectors to add to the focal plane, which will result in a central 6x6 detector array with a field of view of 48 x 48 arcminutes.
The current detectors suffer from a low light level charge transfer inefficiency (CTE). This inefficiency is overcome once the background level is above 100 electrons, but still has implications on day-to-day (or better, night-to-night) observing. The cause of this issue was readily traced to a minor flaw in the chip design and this has been addressed for the 6x6 upgrade. A preliminary detector run has demonstrated that the fix has indeed resolved the charge transfer inefficiency (see Figure).
The fabrication of the additional 24 detectors is scheduled to be completed by April 2014. Soon thereafter we will decommission pODI for the upgrade and subsequent lab testing. We now project that the upgraded 6x6 ODI will be shipped to WIYN in September 2014. Following a few months of commissioning, ODI will be available for shared risk observing. The 6x6 ODI will have four times the usable science field of view of pODI and will be a significant step forward for WIYN.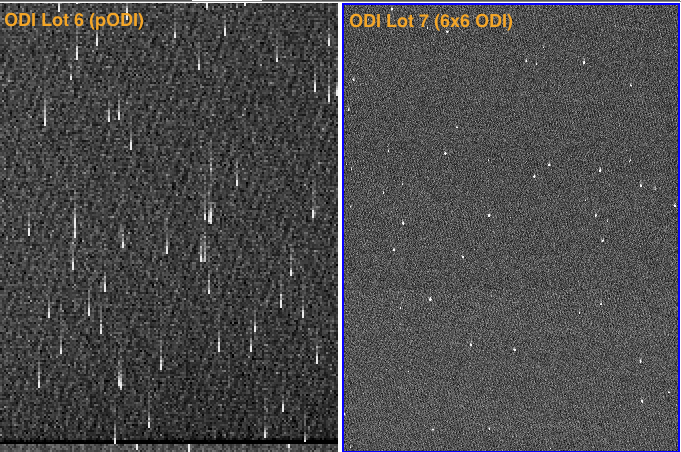 Fe-55 X-ray events imaged under low background conditions with Lot 6 (pODI) and Lot 7 (6x6 ODI) detectors. X-rays deposit energy into a single pixel, as can be seen on the right side (Lot 7), whereas X-ray events are smeared out in Lot 6 devices. The Lot 7 design change has significantly mitigated this problem. The smearing (CTE) affects exposures with a background level below ~100 e-, and in practice affects short exposures and narrow-band images.
Archived articles on the development and progress of pODI can be found below.
Previous Articles
ODI news Roundup: September 2012 September 27, 2012
ODI news Roundup: July 2012 July 31, 2012
ODI news Roundup: Packing up ODI July 19, 2012
ODI news Roundup: April 2012 April, 2012
ODI news Roundup: January 2012 January, 2012
ODI news Roundup: June 2010 June, 2010
ODI news Roundup: April 2010 April, 2010
ODI news Roundup: January 2010 January, 2010
ODI news Roundup: August 2009 August, 2009
ODI news Roundup: July 2009 July, 2009
ODI news Roundup: March 2009 March, 2009
The First CCD Controller Arrived in Tucson October 23, 2008
Instrument Support Package - A First Fit Check October 22, 2008
ODI Focal Plate Arrived October 17, 2008
Last modified: 26-Aug-2014 16:46:31 MST